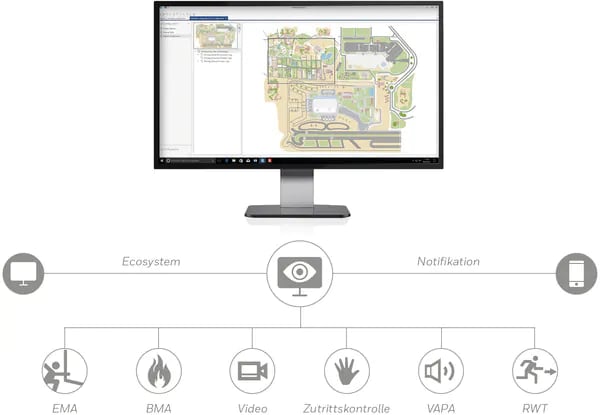 Master your corporate environment with WINMAG plus™
Due to growing requirements, safety equipment in buildings has become more and more sophisticated, but also more complex. No matter whether in offices, industrial plants, banks, museums, public buildings or critical facilities - the same applies everywhere: more technology, more systems, more information, decentralized locations.

Customized hazard management
WINMAG plus offers a comprehensive solution in this regard. With WINMAG plus, all systems can be networked with each other. This not only enables considerable cost savings, but also valuable synergies.
Simply scalable and up to any task
WINMAG plus is modular and easily scalable. This ensures that this software can not only be easily and quickly adapted to the size and location of the objects to be secured.
It also enables easy expansion of the installed system and offers new functions and an intuitive user interface. Last but not least, the new licensing model of WINMAG plus offers tailor-made solutions, as only the actually used range of services is licensed and, in addition, upgrades and conversions can be carried out in a more cost-effective manner.
Whether global or local - everything under safe supervision everywhere
Whether prestigious residences or large properties, whether local or globally distributed properties. WINMAG plus is the ideal software for networked hazard management of any size and is highly versatile. In banks and offices as well as in shopping centers, museums and other public buildings with high security requirements.
New functions
Support of AutoCAD drawings via license option WM4040
OPC-Server via license option WM5100
Universal Gateway available for data transfer to higher-level systems via license option WM5800
Distribution of workflows between all connected WINMAG stations
Cybersecurity improvements
For more Information ... Broschüre
The new WINMAG version 6.2 is now available for download at our homepage for all our customers. IMPORTANT: Before installing version V6.2, please update your existing V6.0 / V6.1 / V6.1 SP1 license file to the new V6.2 license file. This update is free of charge. In addition to the functional enhancements, we have made many cybersecurity improvements in this new version V6.2. Therefore we would like to encourage you to update your existing, older versions.
To download section Software

For more information please contact us directlyCONTACT